Butch Veltum receives a $1500.00 check from Senior Editor Mark Boncher of American Snowmobiler Magazine after winning the Sunday Bracket Races at The American Snowmobiler Shoot Out at the Martin, Michigan Raceway on September 26, 2009.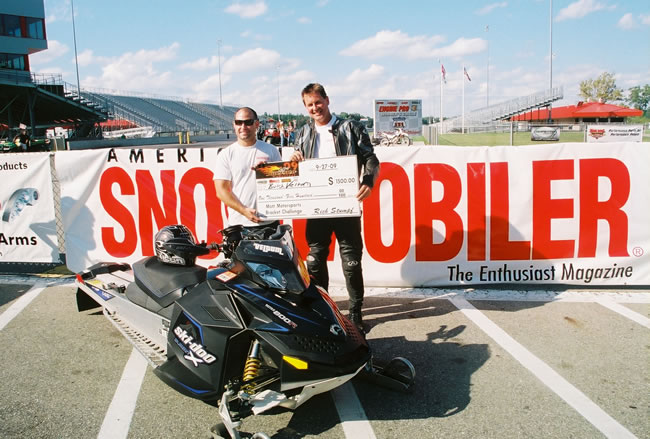 MSDRS Asphalt Drags Program
The snow is gone, and it's time to race your snowmobile at the Great Lakes Dragaway in Union Grove, WI.

This year MSDRS (Midwest Snowmobile Drag Racing Series) has a seven race series of Bracket Racing set up for race hungry snowmobilers who want to have some fun in the summer. Racing is usually on Friday nights. Gates open at 5 p.m., practice is held until 7 p.m., and at 7 p.m. eliminations start.

Don't think this is easy pickings, you are racing against the top bracket racers in the country. At the Big American Snowmobiler Shoot-out at U.S. 31 Motorsports Park in Martin, MI in September of 08, top racers from the midwest group won the Bracket Class on both Saturday and Sunday. Racing against over 70 entries each day, Jeff Jaquish won the big show on Saturday and took home USD $1500.- in prize money. Butch Veltum repeated the accomplishment and took home USD $1500.- on Sunday.

If you want to win the American Snowmobiler Shoot-out, you could get no better practice than to come and race against last year' winners at the MSDRS Asphalt Drag Series held at the Great Lakes Dragaway in Union Grove, WI.

For confirmation of race dates, check with Chris Cox (ultra75cc@yahoo.com), phone (847) 276-6242, or log on to www.greatlakesdragaway.com. You can also call Great Lakes Dragaway at (262) 878-3783.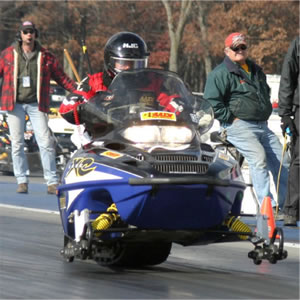 Olav Aaen racing and testing performance pipes at the 2005 American Snowmobiler shoot out in Brainerd, Minnesota.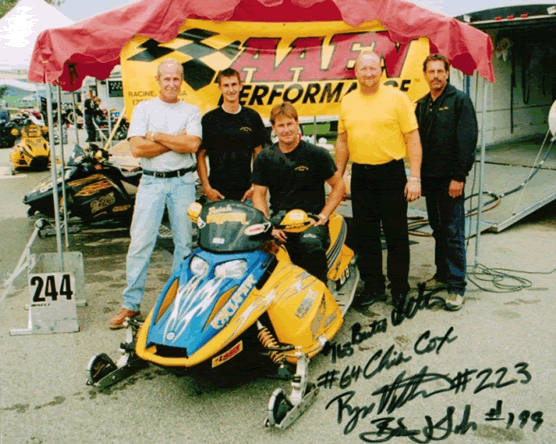 Butch Veltum Winner of the American Snowmobiler Magazine Shootout, in Martin, Michigan, in 2008 and 2009.
Pictured Left to Right: Dean Veltum, Ryan Veltum, Butch Veltum, Brian Lamm, Chris Cox .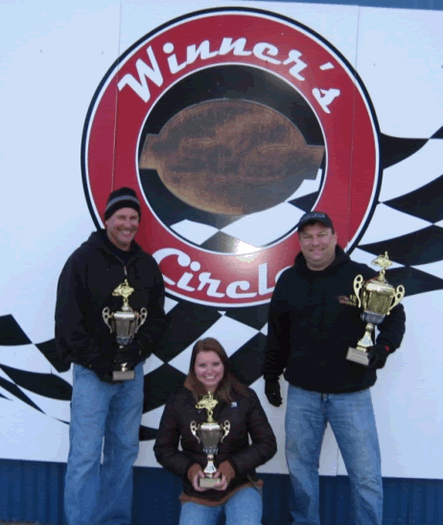 High Point Winners 2012 Midwest Snowmobile Asphalt Drag Series, Great Lakes Dragaway, Union Grove, Wisconsin.
Pictured Left to Right: Butch Veltum 2nd, Sarah Peters 3rd Place, Chris Kinsfather 1st Place. .