Vintage Pipes
SNOWMOBILE BRAND NEW PIPES
MODEL
YEAR
STYLE
PART #
PRICE
Arctic Cat
El Tigre Kawasaki 440
1973
TWIN
VIN-A10081
$595.00
El Tigre Kawasaki 440
74-75
TWIN
VIN-A10083
$595.00
El Tigre 6000-440
78-79
TWIN
VIN-A10021
$595.00
El Tigre 6000-500 Liq
80-81
TWIN
VIN-A10001
$595.00
El Tigre 4000-5000
76-77
TWIN
VIN-A10041
$595.00
El Tigre 4000-5000
78-80
TWIN
VIN-A10042
$595.00
POLARIS
Centurion
79-80
TRIPLE
VIN-P10501
$749.00
TX 340
TWIN
VIN-P10541
$595.00
TX 440
TWIN
VIN-P10542
$595.00
KAWASAKI
Invader 440
78-80
TWIN
VIN-K12002
$595.00
LTD
1980
TWIN
VIN-K12022
$595.00
LTD
81-82
TWIN
VIN-K12031
$595.00
INTERCEPTER 530
1982
TWIN
VIN-K12041
$595.00
YAMAHA
TEN PORT OVAL (SRX/GPX)
TWIN
PIM-10002
$650.00
SRX 440
78-80
TWIN
VIN-Y11011
$595.00
SRX 440 - RACE STINGER
78-80
TWIN
VIN-Y11017
$595.00
EXCITER 440 FAN
SINGLE
VIN-Y11070
$449.00
SKI DOO
9700
1980 & up
TWIN
VIN-S11510
$595.00
9500
1980 & up
TWIN
VIN-S11501
$595.00
7500
1980 & up
TWIN
VIN-S11521
$595.00
6500-7500
78-79
TWIN
VIN-S11520
$595.00
RV
76-78
TWIN
VIN-S11524
$595.00
5500
79-80
SINGLE
VIN-S11551
$449.00
MX 5500
1981
SINGLE
VIN-S11552
$449.00
JOHN DEER
Liquifire
80-82
TWIN
VIN-J12511
$595.00
Liquifire
76-78
TWIN
VIN-J12502
$595.00
Bill Stull, Eagle River
Devin Fackrell, Eagle River 440 X
Multiple Vintage World Champion
Vintage World Champion
Team Aaen Eagle River 2011
Lon Aston, Devin Fackrell, Ken Kitzman
1970 Arctic Puma Sprint Race sled with a 292 Yamaha Reed Valve Motor & Aaen Pipes Winner of the Traverse City TC-250 3 years in a row
The "Cobble Shop" crew Kyle Sawallich, Craig Town, Scott Odem, Marty Griffore, Kris Patterson and his first driver Mike Pendock, RIP Mike and most of all Olav Aaen and his staff at Aaen Performance for the wins.

CONGRATULATIONS TEAM HIGGINBOTHAM!
Team owner Fran Higginbotham and engine builder Bob Jahna were very pleased with their Vintage Racing season. Driver Mike Jones repeated his Eagle River World Championship win in the SS440 class, and then won the SS440 and MOD 440 class again, at the Boonville, N.Y. Race. Mike Jones also won the Northern N.Y. overall class Championship in the Stock, Superstock, and MOD 440 with his Yamaha GPX 440.

The young new team member Scott Mollett won both the 300cc and the 340cc Mod Classes at Boonville and clinched the overall Northern N.Y. Series Championship in both classes, with Frans GPX 292.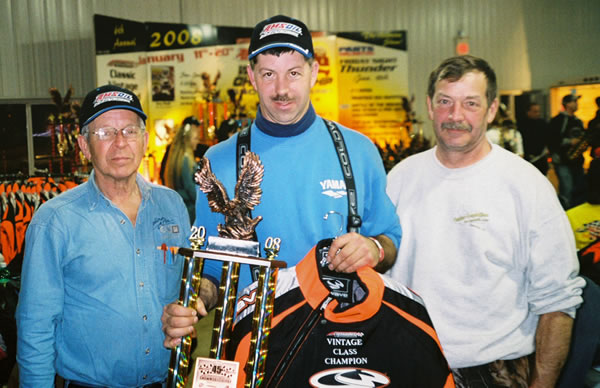 Left to right, Team Owner Fran Higginbotham, Mike Jones and Bob Jahna.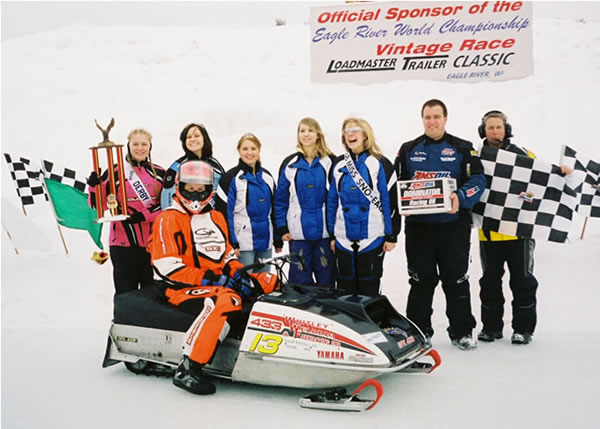 Mike Jones winning SS440 at Eagle River World Championship in 2008.
VINTAGE 292 RACE PIPES
We have two pipes available for the popular 292 Yamaha single engine. The full race pipe is developed for modified Oval racing and delivers 70 HP at 9000 RPM with Full Race Porting, Reed Valve intake and a larger Carb. We also have a milder pipe that is turned for 7500 RPM and delivers 50-55 HP depending on Cylinder Porting. This pipe is very popular in One Lunger Sno Cross Enduro Races or for Vintage Trail Riding and Restorations
MODEL
PART #
PRICE
TEN PORT OVAL SRX/GPX 440 (76-80)
PIM 10002
$ 650.00
YAMAHA 292 (9000 RPM) OVAL RACE PIPE
VIN Y-11009
$ 449.00
YAMAHA 292 (7500 RPM) ENDURO OR TRAIL PIPE
VIN Y-11010
$ 449.00
TRAIL PORTING (PRICE IS PER CYLINDER)
LBR 1020
$ 249.00
TRAIL HEAD MACHINING (PRICE PER HEAD)
LBR 13006
$ 70.00
VINTAGE RACE PORTING (PRICE IS PER CYLINDER)
LBR 1022
$ 299.00
RACE HEAD MACHINING (PRICE PER HEAD)
LBR 1023
$ 80.00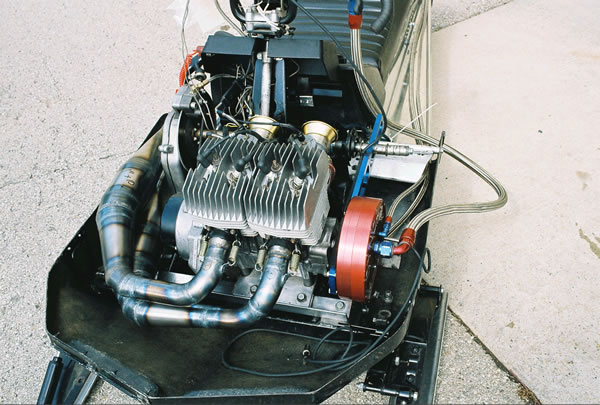 Vintage Performance Modifications
With 20/20 hindsight and 30 years of racing development, we can now pull more horsepower from your vintage racer than even the factory racers had in their time. New larger volume pipes, more efficient porting layouts, quicker responding flat slide carbs and stronger ignitions bring these engines to a new level of performance. Custom pipe work, cylinder porting, head machining and engine Dyno services are available for most Vintage sleds. The picture above shows an Arctic EXT 340 being dynode with newer custom pipes. An 8 HP increase over the original factory pipes was the result.
| | | | | | | | |
| --- | --- | --- | --- | --- | --- | --- | --- |
| | | This beautiful restored Skiroule was fitted with a set of custom pipes. | | | The Skiroule with pipes custom fitted to it's 340 Sachs twin engine. | | |
| | | | | | | | |
| --- | --- | --- | --- | --- | --- | --- | --- |
| | | This Sno Jet is fitted with a set of SRX wild pipes, matching the porting of the GPX which was brought up to SRX specs. | | | Arctic Puma with race pipe custom fitted to 340 Sachs single | | |
You don't see this very often. An early original Chaparral. These racers were the first with IFS suspention, originally designed by Bobby Unser. The tube frame and shock location made it a real challenge to fit 3 pipes.